Expert Toilet Installation Services: Upgrade Your Bathroom with Confidence
Looking to upgrade your bathroom with a new toilet? Swift Creek Plumbing Company is your trusted partner for professional toilet installation services. Our experienced team of plumbers is equipped with the knowledge and expertise to ensure a seamless installation process. From selecting the right toilet to precise installation, we handle it all. Contact us today at (804) 533-8203 for expert toilet installation services.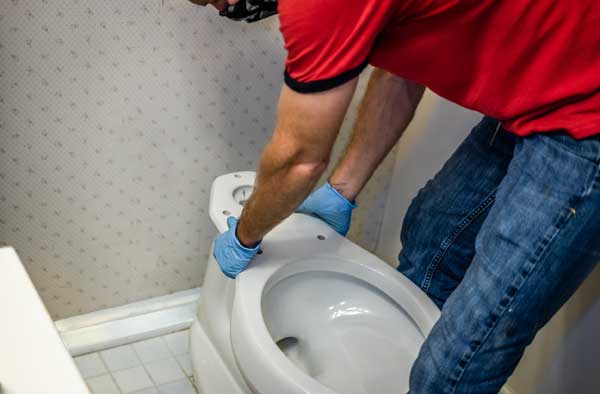 Why Choose Swift Creek Plumbing Company for Your Toilet Installation?
Extensive Experience: With years of experience in the plumbing industry, our team has successfully installed numerous toilets in residential and commercial properties. We stay up-to-date with the latest installation techniques and industry standards to deliver exceptional results.
Quality Products: We believe in using high-quality products that not only enhance the aesthetics of your bathroom but also provide long-lasting performance. We can assist you in choosing the right toilet that matches your preferences and meets your specific needs.
Precise Installation: Toilet installation requires precision to ensure proper functionality and prevent leaks. Our skilled plumbers meticulously handle each step of the installation process, from securing the toilet to connecting the plumbing lines, guaranteeing a secure and leak-free installation.
Timely Service: At Swift Creek Plumbing Company, we understand the importance of timely service. We strive to complete your toilet installation efficiently, minimizing any inconvenience or disruption to your daily routine.
Toilet Installation Perfected to an Art
When you choose Swift Creek Plumbing Company for your toilet installation, you can expect a smooth and hassle-free experience:
Consultation and Selection: Our knowledgeable team will guide you through the process, discussing your preferences, requirements, and budget. We can assist you in selecting the perfect toilet that suits your style and functionality needs.
Removal of Old Toilet: If you require the removal of an existing toilet, our plumbers will handle the disconnection and removal with care, ensuring proper disposal.
Proper Preparation: Our experts will prepare the area for installation, including measuring the rough-in distance, ensuring proper alignment, and assessing the plumbing connections.
Precise Installation: Our skilled plumbers will install the new toilet with utmost precision, securing it to the floor and connecting the water supply and drainage lines.
Thorough Testing: We conduct thorough testing to ensure proper functionality, checking for leaks, proper flushing, and efficient water flow.
Time for a New Throne. Call Swift Creek Plumbing Today!
Upgrade your bathroom with confidence. Contact Swift Creek Plumbing Company at (804) 533-8203 to schedule your professional toilet installation service. We are committed to delivering exceptional craftsmanship and customer satisfaction.