Water Heaters: We're the Repair, Service & Installation Experts You're Looking For
Are you in need of a local plumber specializing in water heater repair and installation? Look no further than Swift Creek Plumbing Company. We are your trusted experts for both conventional water heaters and tankless water heaters. Our services include repairs, installations, and inspections to ensure your water heater warranty remains intact. Call us today at (804) 533-8203 for a free estimate.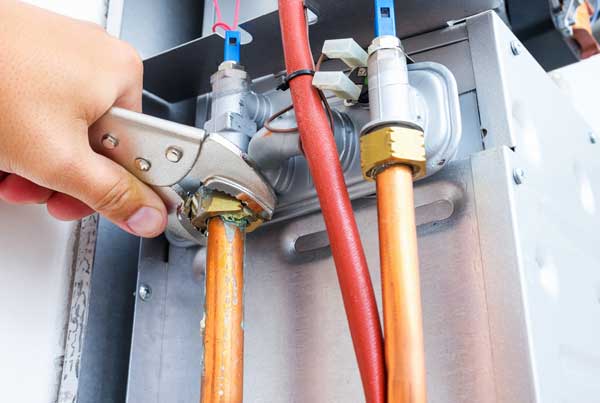 Tankless Water Heaters: Efficiency and Convenience
Experience the benefits of tankless water heaters, which provide hot water on-demand without the need for a storage tank. Consider the following advantages and give us a call to discuss your tankless water heater service needs.
Pros:
Lower Gas Bill: Unlike conventional water heaters, tankless models only heat water as needed, resulting in lower gas consumption and reduced monthly costs.
Continuous Hot Water: With tankless water heaters, there's no waiting time. The super-heated coils rapidly heat water, ensuring you have hot water almost instantly.
Cons:
Higher Initial Cost: While the long-term savings outweigh the initial investment, tankless water heaters tend to have a higher installation cost.
Conventional Water Heaters: Cost-Effective Solutions
Conventional Water Heaters: Affordable and Easy
Conventional water heaters, which use an insulated tank to store and heat water, offer their own set of advantages and considerations. Take a look at the pros and cons below, and don't hesitate to reach out for conventional water heater service.
Pros:
Lower Installation Cost: Installing conventional water heaters is generally quicker and less expensive compared to other options, with the total cost depending on the location in your home.
Lower Upfront Cost: Conventional water heaters typically come at a lower price point compared to alternative models.
Cons:
Space Requirements: If space is limited in your home or new construction, a conventional water heater may not be the most space-efficient choice.
Lower Energy Efficiency: Conventional water heaters constantly use electricity to maintain water temperature, making them less energy-efficient compared to alternative options.
Limited Water Supply: Conventional water heaters hold a limited amount of water in their tank. When that water is used, the tank has to fill up again before the hot water can be used.
Trust the Water Heater Pros at Swift Creek Plumbing Company
At Swift Creek Plumbing Company, we are committed to delivering reliable water heater solutions tailored to your specific needs. Contact us today at (804) 533-8203 to discuss the requirements for your water heaters and benefit from our professional services.